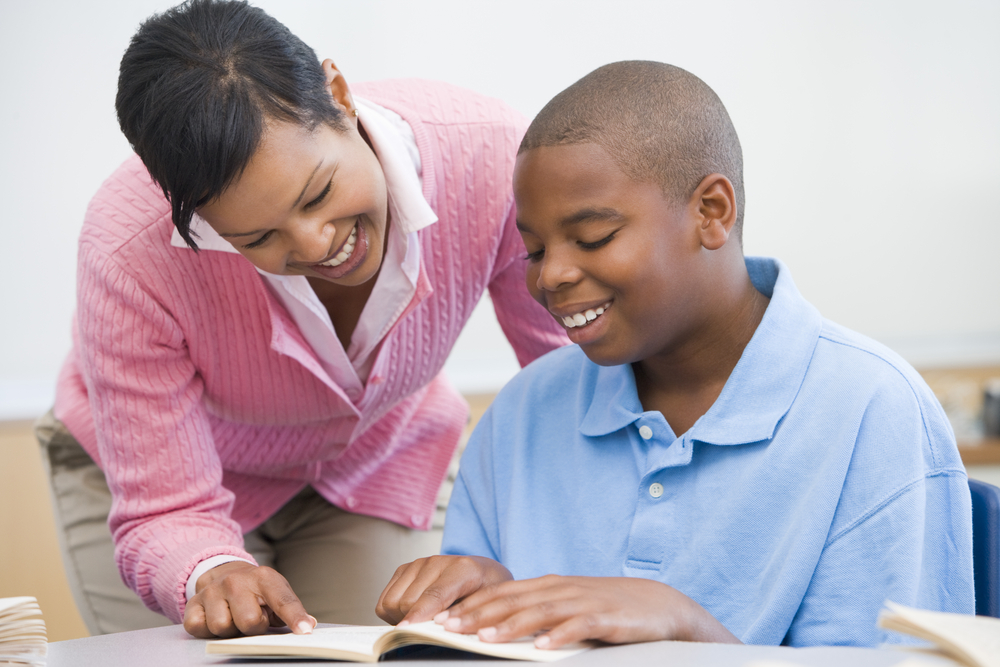 Reading struggles affect about 10 million kids, according to Reading Rockets. Parents who have a child who is having difficulty reading at grade level may feel that there is a lack of support options available, especially if the child fails to qualify for intervention programs at school.
Private tutoring may be one way to help struggling readers catch up to their peers, but families living in rural areas may have difficulty finding a qualified tutor.  Parents may wonder: "Is there a reading tutoring near me?" The answer is: YES!
When you're struggling to find a tutor to help your child improve reading fluency and comprehension, here are a few resources to locate help:
Tutoring Through High School Service Projects    
Some high school clubs or organizations require that members give back to the community through service projects. Students may tutor other students to earn community service credits to meet these membership requirements, and, yes, these services are typically free. If you're struggling to find a tutor for your child, contact your local high school to inquire about any tutoring programs affiliated with clubs or school organizations. Since the tutor will be another student, tutoring times may be limited to certain days of the week.
Private Tutoring Services Offered By Teachers
Some teachers offer tutoring services to help struggling students during the summer break or maybe even during the school year. Your school may have a list of teachers who are willing to help your child during breaks or after school. Contact your school or school district for any available resources. Teachers also may be able to help you locate private tutors, too. There may be a charge for tutoring services. 
After-School Tutoring
There are so many teachers who go above and beyond the call of duty. Some schools offer extra help after school for students struggling in specific subjects. Every school and district may have unique programs; get in touch with an administrator at your child's school to inquire about any after-school enrichment opportunities.
Online Reading Programs
Online reading programs like Readability also provide tutoring services—via a virtual AI tutor. Online programs can ensure that your child receives the guidance needed to help increase phonetic fluency and improve reading comprehension. Like private tutoring services, online programs grow with your child. The virtual tutor also provides auditory feedback, gently correcting pronunciation errors to help children catch their mistakes.
Voice recognition software allows the tutor to identify your child's unique voice; this recognition is important as everyone has unique voice inflections that can affect the pronunciation or sound of a word. Pronouncing potato as PO-tah-toe doesn't change the meaning of the word, and the software is designed to understand that this isn't a pronunciation issue.
Don't Stop Advocating for Your Child!
When parents realize that their child is struggling to read, the first step should be to reach out to the school for guidance. Tutors are a great option, but parents need to advocate for their child to determine if s/he could qualify for help through the school. Qualifying for reading intervention programs may differ by school or school district. A child may be given additional support without question, but other schools may require more evidence to support intervention.
In the case of pushing for intervention, most parents find that "the squeaky wheel gets the grease." Pursuing all options and advocating at all levels is important to ensure that your child doesn't fall through the cracks. When approaching teachers or administrators about additional help for your child, you may need to consistently follow-up. Ask about what testing might be necessary to qualify for intervention, discuss options and keep an open dialogue with both your child's teacher and administrators. Understand, though, that sometimes qualifying for intervention can take time.
Parents who realize their child is struggling to read at grade level may find the hunt for a tutor to be daunting, especially in more remote areas. "Is there a reading tutor near me?" may be a common question or concern. However, there are many options available to parents seeking reading help for their child. High school clubs or organizations may offer tutoring services as part of community service projects. Retired teachers also may be available to offer tutoring services to struggling students, and some schools also offer after-school programs that provide enrichment options for students needing help in a particular subject. There also are companies that help match families with local tutors. Of course, online reading programs like Readability provide a virtual tutor for unique one-on-one reading support. Interested in learning more about Readability? Try the program out for free to see if it's a good fit for your child.